Power Knee Stabilizer Pads(One Pair)
The Power Knee Stabilizer Pads (Knee Joint Support Pads) is a breakthrough product that allows you to lift your knee easily when you bend or squat both legs.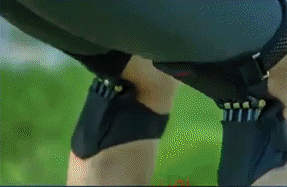 Feature:
STRONG LIFTING POWER: The Power Knee Pads can withstand a weight of about

 

20kg

 

each and are effective enough to lighten about 40kg from a person's own weight. 
HIGH-QUALITY: Durable, lightweight,

 

aluminum alloy

 

body with remarkable elasticity and specially designed.

 

Breathable

 

mesh,

 

non-slip

 

fabric.The

 

velcro

 

type length control makes them easy to put on and makes it possible for them to be worn on the inside or outside your clothes.
VERSATILE: These powerful knee pads support

 

thighs and calves, and can be used for any occupation. Great for various sports such as mountain climbing, biking, golf, badminton, work outs, and more.
NOTE: This product is

 

NOT available in stores!

 

FREE WorldWide Shipping. 
How to Use:
7 REASONS PEOPLE LOVE KNEE GURU
COMFORTABLE - V-shaped open-air design with soft neoprene fabric keeps you cool and comfortable. Can be worn underneath or over clothing.
EASY TO USE - Simple two-strap system makes it easy to apply and adjust. 
LIGHTWEIGHT - Each brace weighs less than 1 pound (.6 kg), making it the lightest brace in its class. 
DURABLE - High-tensile carbon steel springs, polycarbonate plates & commercial strength velcro ensure long-lasting performance. 
BREATHABLE - Non-slip neoprene mesh sleeves allow air to flow easily. 
ODOR RESISTANT - Hypoallergenic, moisture-wicking fabric resists odors and bacteria. 
MACHINE WASHABLE - Easy-to-remove sleeves can be machine washed, air-dry only. 
Give your knees the extra support they need.
Whether it's hiking trails, moving boxes, or playing your favorite sport, the Knee Guru Brace does it all. Durable, easy to use and can be comfortably worn both underneath and over clothing with its extended velcro straps. (One size fits most)

If you've been looking for extra knee support, join the family and get the #1 rated knee support brace in the world!
✔【Package Includes】
2 x Knee Guru Braces

1 x User Manual