You can still purchase with your credit card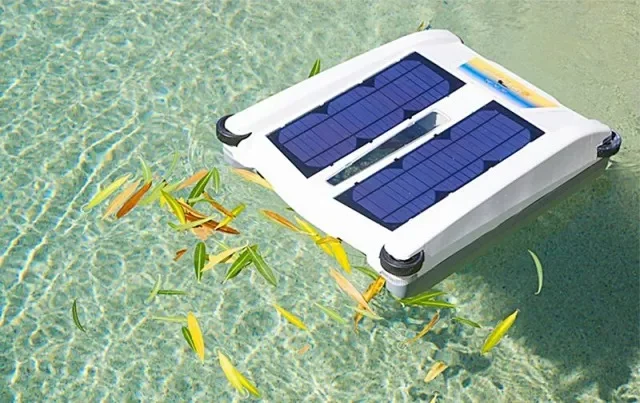 This robot solar cleaner automatically cleans your swimming pool for you. Spoon leaves and other debris floating on the surface of the pool. Collect them quickly before they sink and rot. Put the device in the water and turn it on. Then the pool cleaner robot will help you do the work. This kind of autonomous robot with a unique design saves time and money.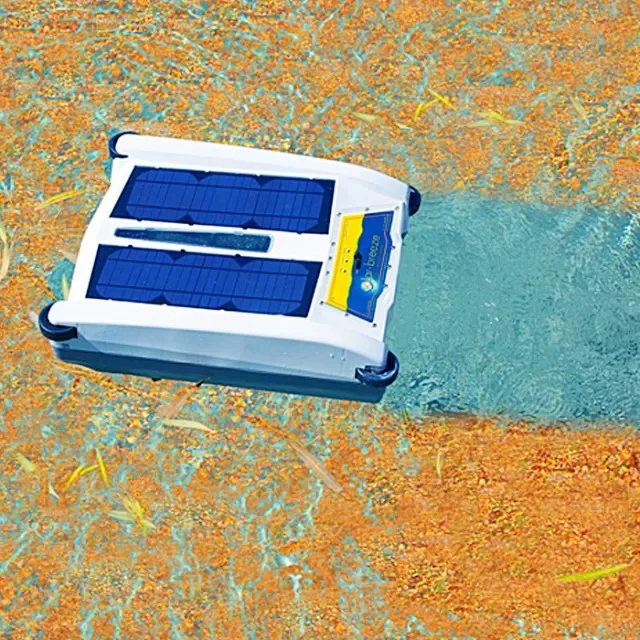 Cleaning agent for solar-powered robot skimmer: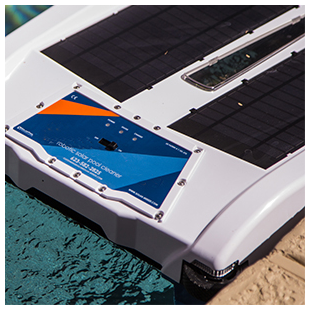 Once the robot has finished its work, it moves it away and empties the collected debris. The skimmer, which cleans the surface of a solar-powered swimming pool, works all day and is equipped with a 5300 MAH 7.4-volt rechargeable lithium-ion battery to store energy and use it at night. It uses a powerful engine to run in your pool and has a 30.000-hour service life. Pool flash has a tray of two chlorine tablets to pay for.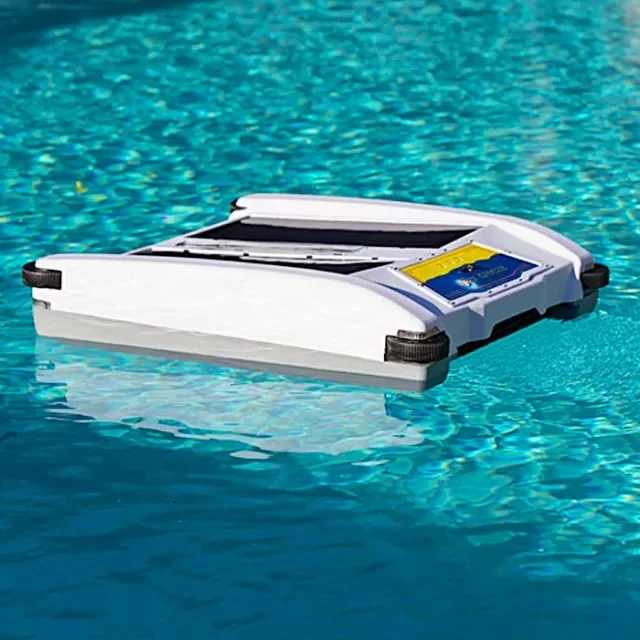 Unlike ordinary degreasing baskets, its garbage collection tray has more space for leaves, cotton, dust, pollen, and even sunscreen. The rear paddle wheel is used to move forward and the front paddle wheel is used to collect debris on the collecting plate. The robot has two different navigation mechanisms. In-line sensors help to detect when there is no more progress. When it hits the edge of the pool, the front bumper wheels redirect the robot to clean the entire pool.
It is 23 inches long, 20 inches wide, 6 inches thick, and weighs 4.5 kilograms dry. To empty and clean, simply slide the switch to the off position. The tray for collecting the debris is then removed and emptied into a suitable waste container. It also helps maintain the balance of pool chemicals by distributing chlorine during operation.
Clean your swimming pool easily!
You can throw away your manual skimmer, shorten the running time of the filtration system, and expect to jump into a clean pool at any time. No wires or hoses - just remove the device from the pool and enter!
Using only solar energy and a power grid to collect double the area of your built-in degreasing basket, this intelligent robot works in your swimming pool all day, removing 90-95% of the surface debris, because it can reduce the dust, leaves, pollen, and bacteria in your swimming pool! The chemical dispensing tray holds two 3-inch (not included) trichloro tablets to clean your pool. 
Long term solar power generation technology
Reduce your energy costs with free and unlimited solar energy. You can keep it clean for hours after sunset. In midsummer, the maximum working time of using the solar belt every day is about one hour. 23, 5 hours!
Easy to clean trash tray
The mesh collection area is twice the size of the built-in trash basket, so you can easily collect more debris.
GUARANTEE :
Rush Delivery Available.
Before: 

$119.98

> NOW

 $59.99

97% of the feedback from people who received this as a gift said it was a great gift choice & works really well
Click the "

BUY IT NOW

" button now! Limited Quantity - Will sell out fast!