When it comes to outdoor holiday decorations, bigger ones always feel more satisfying, which is why you need to look at these huge Christmas PVC inflatable decoration balls .


🎅🎅Wears the sign to make your house full of Christmas atmosphere.🎄🔥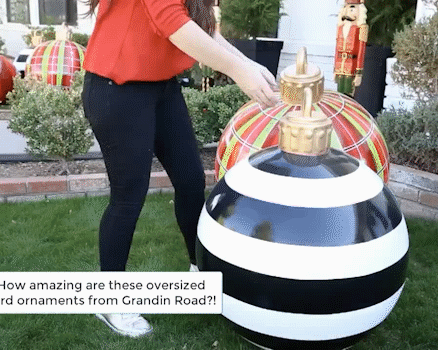 These huge decorative outdoor ornaments look fun and festive during the day, but create a spectacular display of Giant Ornaments at night.


Feature
This decorated ball will display your Christmas decoration by creating an attractive focal point in your yard or porch.

High-quality indoor/outdoor oversized Christmas decoration.

The diameter is

60 cm。

There are 11 different styles to choose from.

Weather-resistant resin with brightly painted finishes and realistic details.
😘Featured Reviews
"Beautiful product with big impact!"-Melissa N ⭐⭐⭐⭐⭐

Q:How to fix them on the ground?
A:This kind of decorative ball is made of PVC material, which is a kind of heavy plastic. PVC is a synthetic material (man-made). We can make the pipe hard or soft like rubber. Similarly, the decorative balls themselves have a certain weight so that they will not be blown away. Of course, if there is a strong wind in your area, I suggest you pour sand or other objects into it after inflating to ensure that they will not be blown away!Therefore, there is no need to connect the decorative ball to the ground for fixing.
😉Order now to enjoy greater discounts!