Clean keyboard | Clean headphones | Double head design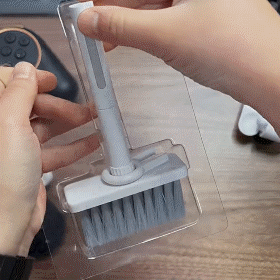 Multifunctional Electronic & Smart Gadget Cleaner Is here to be your best companion for all Keyboard, Earphones, Headset, Laptop, Computer, etc.
BEST DEAL FOR ALL YOUR CLEANING NEEDS
4 types of cleaning head that is multi-purpose, provide deep cleaning reaching every corner of the keyboard and earphones leaving not spot dirty.


MULTIFUNCTIONAL CLEANING KIT
The flocking sponge can remove dust in the wireless charging case of earphones. High-density
the brush can clean dirt present on the sound outlet hole of the earphone. Metal pen tips can effectively clean stubborn dust.